Bub and Bob Are Coming to PS4, PS5 and PS VR in Puzzle Bobble 3D: Vacation Odyssey Later This Year!
June 3, 2021
Survios here, popping in to share some exciting news,
From Sony's PlayStation VR Showcase Day, we're thrilled to announce Puzzle Bobble 3D: Vacation Odyssey to PlayStation VR (PS VR), PlayStation 4 (PS4) and PlayStation 5 (PS5) later this year! In collaboration with TAITO, this reimagined classic features the same vibrant design, adorable characters, and timeless puzzle-solving gameplay as the flagship titles from Puzzle Bobble (Bust-a-move).
This title continues the celebration of Bub's 35th Anniversary, and now for the first time we are bringing the franchise into a three-dimensional world for Playstation fans new and old alike.
Check out our PlayStation Announcement Teaser that was revealed earlier today:
In Puzzle Bobble 3D: Vacation Odyssey, players can enjoy a visually enhanced, VR gameplay experience from the recently launched Oculus Quest title, Puzzle Bubble VR: Vacation Odyssey. Additionally, the bubble-popping adventure will allow even more Puzzle Bobble enthusiasts to join the fun with non-VR gameplay support on PS4 and PS5!
"Reintroducing Puzzle Bobble, with its iconic puzzle-solving and new three-dimensional spin to today's players, has been a labor of love for Survios," said TQ Jefferson, CPO and Head of Studio at Survios. "As our first Cross-Reality title, Puzzle Bobble 3D: Vacation Odyssey on PS4 and PS5 will provide players around the world the option to play the way that suits them best, with or without a virtual reality headset!"
Bubble poppers will take on 100 levels as they aim, fire, and pop bubbles using their cannons to match three or more bubbles of the same color in our Story Mode. Infinite Mode provides an endless challenge for players chasing high-scores; and Duel Mode is a fast-paced 1v1 online battle, supporting Quickmatch across PS4, PS5 and PS VR.
As the title may suggest, puzzles will no longer lay on a flat 2D plane, but will take the form of 3D clusters that spring and rotate with realistic physics when bubbles are shot at!
Puzzle Bobble 3D: Vacation Odyssey will challenge players to face a variety of gameplay mechanics which will test even the most veteran of bubble-poppers. Earn coins for each puzzle you solve to purchase game-changing power-ups that help maximize the capability and strategy of your bubble-popping adventure!
Just like the originals, Puzzle Bobble 3D: Vacation Odyssey was designed to be an intuitive, pick-up-and-play puzzle-solving experience for all players! We are excited to see long-time fans test their skills in this new multi-dimensional take on the classic bubble-popper while introducing new players to this timeless gameplay.
Puzzle Bobble 3D: Vacation Odyssey will be compatible with Move controllers and Dualshock 4 for VR gameplay. For non-VR gameplay, the Dualshock 4 will be supported on PS4, and the Dualsense will be supported on PS5.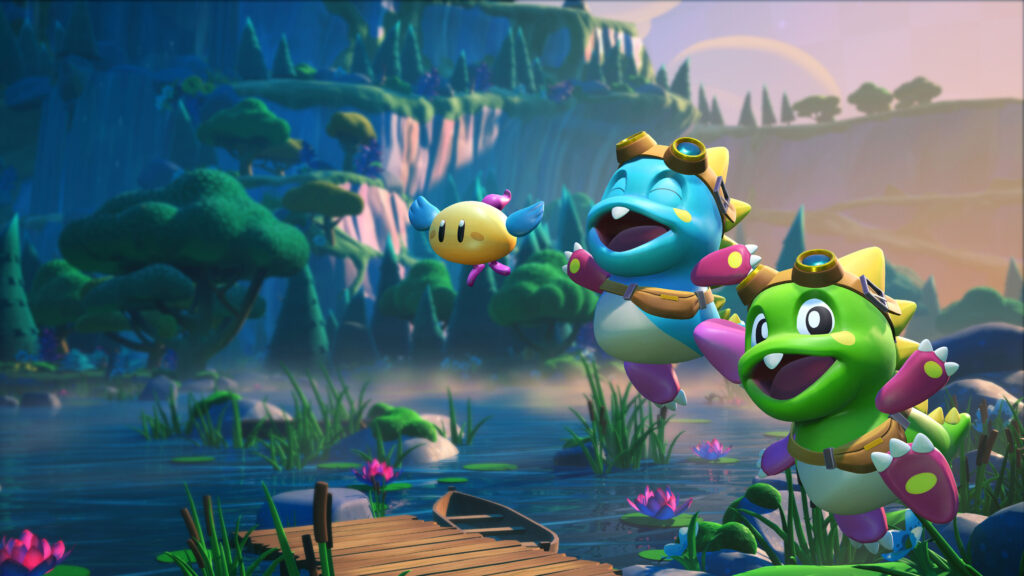 Puzzle Bobble 3D: Vacation Odyssey will be available for PlayStation VR, PS4 and PS5 later this year. We will have more details and gameplay to share in the near future as we get closer to our release, with more 35th anniversary celebrations to come!
To keep up-to-date with Puzzle Bobble VR and Puzzle Bobble 3D news, please visit www.PuzzleBobble3D.com and sign up for our newsletter! You can also follow us on social media at @Survios on Twitter.