CREED: Rise to Glory Endurance Update launches for the Oculus Quest Platform Today!
May 13, 2021
Pull no Punches! Today, Thursday, May 13th, Creed: Rise To Glory™ Endurance Update brings you the most iconic figures of the ROCKY™ cinematic universe with an all new mode coming to your Quest and Quest 2! Training as Adonis Creed, Rocky Balboa, and other Creed & Rocky legends, fitness and boxing enthusiasts can step into the ring within an amplified experience with the new update!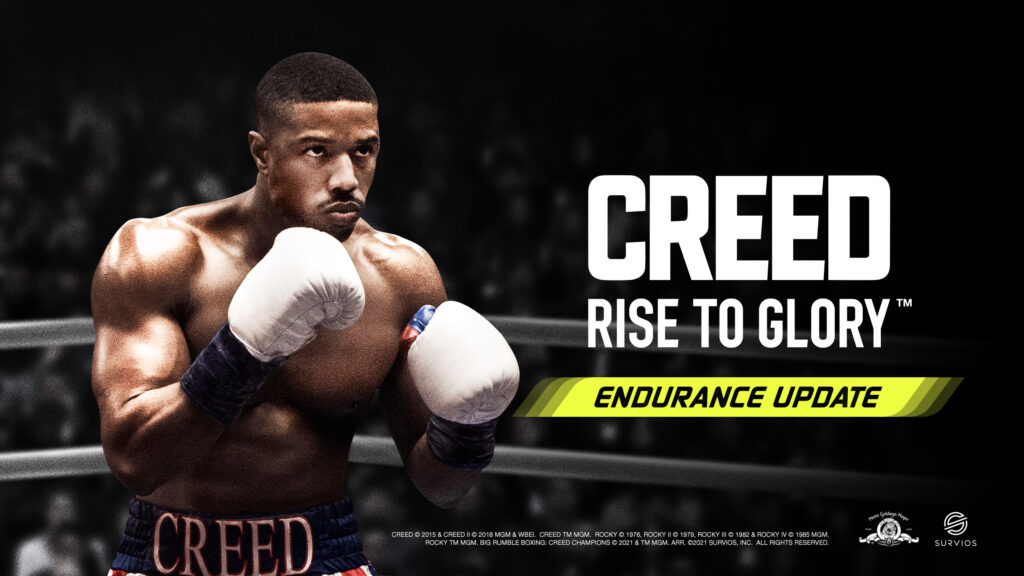 Removing the Virtual Stamina system, the Endurance Mode has been built for hardcore boxing simulation. In Endurance Mode, your character only gets tired when you do. Designed to be used with Quest's Oculus Move! function, players can track burned calories and the duration of physical activity while they set daily fitness goals. Players can further tailor boxing matches by scaling opponent difficulty through Fight Settings. The update also includes visual enhancements for Quest 2 users with improved textures, render resolution, and shadows.
Table 1. Fights in Endurance Mode
Table 2. Fights in Normal Mode
Virtually Healthy, a research company that develops scientifically backed VR health and fitness programs, ran a test to compare Creed's normal mode vs the new Endurance Mode that removes virtual stamina. Overall, the study showed that players who play in Endurance Mode exert a higher MAX Heart Rate than players who play in Normal Mode. The Study reflected that in Endurance Mode, there was an average difference of 41 beats per minute between Heart Rate and Rate of Perceived Exertion equivalent, with an average of 33 beats per minute difference in Normal Mode! Now, that's a workout! Click here to read the full report.
This update is free to players who have purchased the game for Oculus Quest (through the Oculus Home Platform). In celebration of the new mode, CREED: Rise to Glory will be available for new players at a discounted price of $19.99 (33% off)!
The Endurance Mode update is now live on Oculus Quest. For more information, visit survios.test/studio/creed.