Announcing The Walking Dead Onslaught
May 14, 2019
There's no rest when survival is on the line. Survios is excited to announce our newest title: The Walking Dead Onslaught, the official VR game of AMC's The Walking Dead! This Fall 2019, prepare to plunge into the terrifying, genre-defying world of The Walking Dead–but can you survive the relentless walker threat? Sign up for updates at www.TWDonslaught.com and wishlist now on Steam!
"Not only is The Walking Dead Onslaught a dream opportunity for the megafans in the studio, but we've had the unique challenge to further evolve VR with our 'progressive dismemberment' technology," said Survios head of studio Mike McTyre. "This is a standalone game experience that is carried by one of the most beloved TV IPs in the world. AMC has been an incredible partner throughout the process, encouraging us to push VR combat and immersion to match those iconic, heart-pounding moments that can only be experienced within the world of The Walking Dead."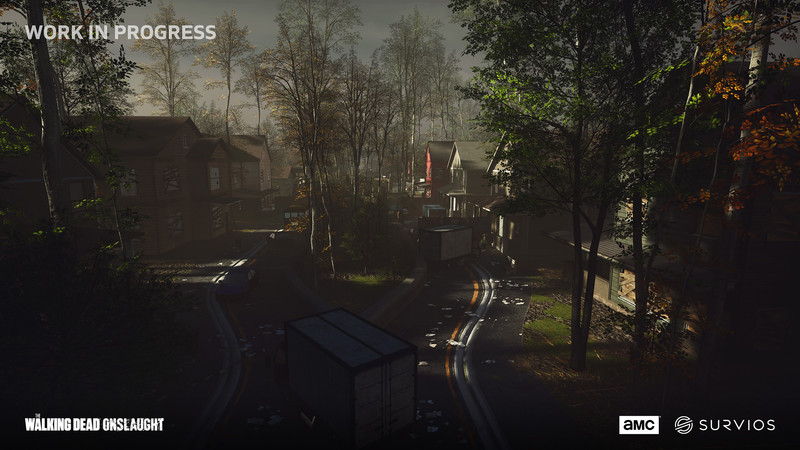 "The Walking Dead Onslaught is the immersive VR experience fans have been waiting for," said Yoel Flohr, EVP of Digital and Franchise Development at AMC. "We're thrilled to be working with Survios, an industry leader in world-class visuals and innovative gameplay, to give players the chance to experience first-hand the terror and thrill of The Walking Dead's apocalyptic world."
The Walking Dead Onslaught gives you the chance to play as a survivor and to experience two different sides of the walker apocalypse: a wrenching narrative original to the game and classic supply runs with randomized weapon and item pickups. And once you've ventured out into the unpredictable wilderness, you'll be taking out walkers with melee and gun attacks like you've never seen before in VR. Survios's new, multilayered Progressive Dismemberment System, puts you so close to the visceral horrors of the walker threat that you can feel it. It's also been described as being immensely satisfying…make of that what you will.
We're excited to reveal more information soon but until then, wishlist The Walking Dead Onslaught on Steam, and ready up for the fight of your life at www.TWDonslaught.com. And for the latest news on The Walking Dead Onslaught and other Survios titles, follow our official social channels on Twitter, Facebook, and Instagram.