Announcing Mr. E's Master League: Sprint Vector Speedrunning Tournament!
July 16, 2018
You've waited patiently through weeks of community challenge competitions and the thrill of ESL's VR League qualifiers, but now the OG Sprint Vector tournament is finally happening: Mr. E's Master League officially kicks off Monday, July 23!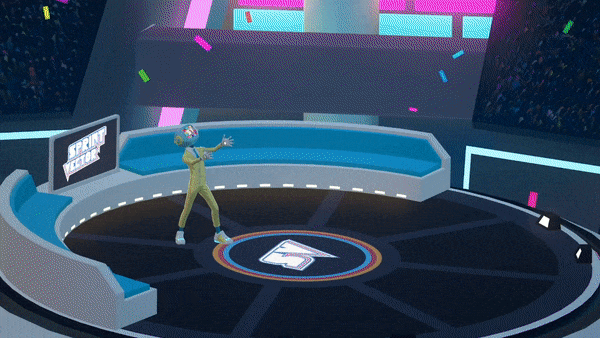 What is Mr. E's Master League? Well, since Mr. E believes everyone deserves a fair shot at fulfilling their wildest dreams, he's cooked up this community competition where the best of the best will shine regardless of VR platform or connection: a solo speedrunning tournament! Along with two grand prizes, a bunch of players will get some fun stuff too, just for participating (even if they pick up some acid burns or scorch marks along the way).
That's right: whether you're on Vive, Oculus, or PlayStation VR, Mr. E's Master League is for you. We'll kick of with a week of online qualifiers from July 23-July 30 where you'll have four chances to enter by submitting your top time on these four maps. All maps must be run on Pure mode (no AI or items) and you can only submit one entry per map:
* Castle Valhalla
* Toxic Barrage
* Edge of Amenti
* Outer Vegas
Submit your qualifier entries here (four entries per participant, one per map). All entries require a video or screenshot proof of your submitted time and you cannot edit your entry once it's submitted. You can enter once or on all four; it just takes one entry to qualify, but each entry you submit is an entry into our random drawing at the end of the tournament–remember what I said about prizes just for participating?!
After the qualifiers conclude on July 30 at 11:59pm PDT, we'll review and verify the submitted times and assign points based on overall placement. We'll notify the top 10 players of their advancement to the finals. Finals will take place August 3-5, 2018; more info coming when it's that time!
Okay, that's fine, just show me the prizes! Here you go:
GRAND PRIZE (1 for Vive/Oculus, 1 for PSVR)
* Intel Core i7 processor
* Metathreads custom Sprint Vector eSports jersey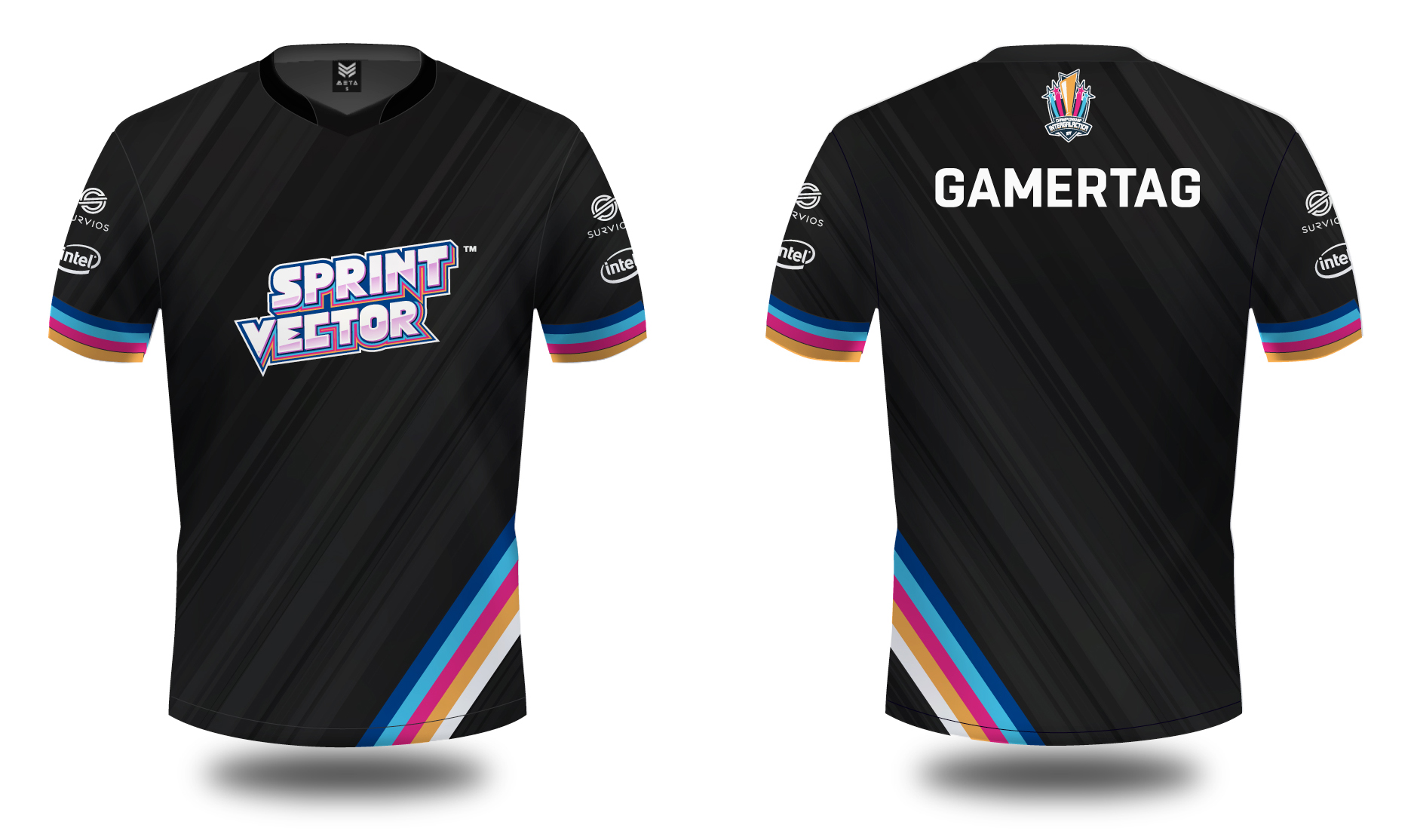 RANDOM DRAWING (8 winners chosen from all participants' entries)
* Intel Core i7 processor (1)
* Metathreads custom Sprint Vector eSports jersey (2)
* Sprint Vector swag pack (5)
On your marks, get set…SPRINT! We can't wait to see what you all can accomplish with the right amount of blood, sweat, and tears!
And since it's required, here's the tournament legalese:
MR. E'S MASTER LEAGUE SPRINT VECTOR TOURNAMENT
OFFICIAL RULES
Effective July 23, 2018
ELIGIBILITY. The Mr. E's Master League Sprint Vector Tournament (the "Tournament") is open to legal residents of all countries excepting China. Entrants must be of the age of majority in their place of residence (at least 18) at time of entry and possess a valid form of identification. Employees, contractors or other representatives of Survios, Inc. ("Sponsor" or "Survios") and hosting arcades, as well as their immediate family and household members, are not eligible. The Tournament is subject to all applicable federal, state, provincial, territorial, and local laws and regulations and, to the maximum extent permitted by applicable law, shall only be construed and evaluated according to applicable United States law. Void where prohibited by law.
Sponsor and Administrator. Survios, Inc., 3249 S. La Cienega Blvd., Los Angeles, CA 90016, United States.
Agreement to Official Rules. By participating in the Tournament, you ("Entrant") fully and unconditionally agree to and accept these Official Rules and the decisions of the Sponsor, which are final and binding in all matters related to the Tournament. Whether an Entrant receives a prize is contingent upon fulfilling all requirements set forth herein.
TIMING. The Tournament consists of two rounds held online. The first round (the "Qualifer") begins on July 23, 2018, at 12:01am PDT and ends on July 30, 2018, at 11:59pm PDT. Entries must be submitted via the provided Google Form links by the end time to be considered for advancement to the second round (the "Final"). Each entry will be assigned a number of points depending on overall time and placement. The top ten to twelve point earners in the Qualifier round will be invited back to compete in the Final beginning August 3, 2018, at 12:01am PDT and ending August 5, 2018, at 11:59pm PDT. Winners will be announced on or about August 7, 2018, and notified by phone or email by the hosting Arcade. Management of each Arcade is the official timekeeper for Tournament entries from that Arcade.
How to Enter. Qualifier: Participants must enter the Tournament by submitting a completed form showing proof (either with a screenshot or a video) of their submitted time at the provided link (bit.ly/mresmasterleague) during the Qualifier period. Entry is free of charge to all participants. Entrants will be given four opportunities to enter with one entry per specified map: Castle Valhalla (Ice 2), Toxic Barrage (Toxic 1), Edge of Amenti (Arid 2 Reverse), and Outer Vegas (Space 1). Final: Qualifier winners invited back by Survios must submit their completed form showing proof (either with a screenshot or a video) of their submitted time at the provided link (to be emailed) by the end of the Final period.
QUALIFYING CRITERIA. Qualifier: Entrant must have accumulated enough points on the four specified maps with screenshot or video proof of their submitted time and submit their completed entry form by the end of the Qualifier period. Final: Entrant must be a Qualifier winner invited back by Survios and must provide screenshot or video proof showing their submitted time when they submit their completed entry form by the end of the Final period. Both Rounds: Entries must not contain material that is unlawful, in violation of or contrary to the laws or regulations in any state, province, country or territory where the Entry is created, or that infringes the intellectual property or other rights of any third party. Any plagiarism will immediate disqualify the Entry and Entrant. By submitting your Entry and completing and submitting the Tournament registration, you agree that each Entry conforms to these guidelines and that Sponsor, in its sole discretion, may remove or disqualify any Entry if Sponsor believes, in its sole discretion, that it fails to conform to these guidelines. Sponsor is not responsible for lost, late, incomplete, invalid, un-intelligible or misdirected entries, which are void and will be disqualified.
PROMOTIONAL USE. By posting an Entry, you grant a non-exclusive license to Sponsor (a) to use, display and distribute it on social media to further promote the Tournament and (b) as otherwise set forth in the Terms of Use. Such engagement does not guarantee a Tournament win or prize. Sponsor, in its sole discretion, may feature any Entry submitted in this Tournament at any time during, or after, the Qualifier Period or Final Period on the Site, any related websites, in any promotional materials, whether related or un-related to the Tournament, and at any other location, whether physical or online, that Sponsor, in its sole discretion, deems appropriate and necessary for the operation and promotion of this Tournament.
Winner Determination. Qualifier: Survios will review and verify all entries received by the end of the Qualifier period to assign points and determine the top ten to twelve overall times; qualifying entrants will be notified by email of their advancement to the Final. Final: Sponsor will identify the fastest two times among qualifying submissions by Final participants to receive Grand Prizes. Additionally, eight more winners will be chosen by random draw from among all Qualifier participants to receive one of the Drawing prizes. Sponsor's decisions as to the administration of this Tournament and the selection of winners are final and binding in all matters.
WINNER REQUIREMENTS. Each potential winner (parent/legal guardian if winner is a minor in his/her state, province or country of residence) will be required to sign and return to Sponsor, within three days of the date notice or attempted notice is sent (or such longer period as required by applicable law), an Affidavit of Eligibility, Liability & Publicity Release in order to claim the prize. Potential winners outside the United States may also be required to answer a skill-testing mathematical question and/or complete additional documentation. If any winner cannot be contacted, or fails to sign and return the applicable Affidavit within the required time period noted above, that applicable potential winner forfeits the prize and will be disqualified. All potential winners must continue to comply with all terms and conditions of these Official Rules; and winning is contingent upon fulfilling all requirements. Failure to comply with these requirements for any reason, return of prize notification or prize as undeliverable or disqualification of any winner for any reason will result in forfeiture of the prize; and the applicable prize will be awarded to an alternate winner with the fastest time score after the disqualified potential winner. Only two alternate winners for each prize will be selected, after which the applicable prize will remain un-awarded. Acceptance of any prize shall constitute and signify the winner's agreement and consent to Sponsor may use the winner's name, city, state, country, likeness, voice, photos and/or prize information in connection with the Tournament worldwide, including the Internet, without limitation and without further payment or consideration, except where prohibited by law. Prizes will be fulfilled within 30 days after all winners have been confirmed.
PRIZES. Grand Prize (2): Intel Core i7 Processor (Approximate Retail Value ("ARV") $370) and Metathreads Sprint Vector eSports jersey (ARV: $60). Drawing: one Intel Core i7 Processor (Approximate Retail Value ("ARV") $370), two Metathreads Sprint Vector eSports jersey (ARV: $60), five Sprint Vector swag packs (ARV: $30). The ARV of electronic items is subject to fluctuations in the consumer marketplace based on, among other things, any gap in time between the date the ARV is estimated for purposes of these Official Rules and the date the item is redeemed. All prizes are non-transferable and no substitution will be made unless Sponsor, in its sole discretion, determines otherwise. Sponsor reserves the right to substitute a listed prize for one of equal or greater value if the designated prize should become unavailable for any reason. Winner is responsible for all taxes and fees associated with prize receipt and/or use. Total ARV of all Tournament prizes: $1,500. All ARVs are denominated in U.S. Dollars.
Release. By receipt of any prize, the winner agrees to release and hold harmless Sponsor, the hosting Arcade, and their respective subsidiaries, affiliates, suppliers, distributors, advertising/promotion agencies, and prize suppliers, and each of their respective parent companies and each such company's officers, directors, employees and agents (collectively, "Released Parties") from and against any claim or cause of action, including, but not limited to, personal injury, death, or damage to or loss of property, arising out of participation in the Tournament or receipt or use or misuse of any prize.
General Conditions. Sponsor reserves the right to cancel, suspend and/or modify the Tournament, or any part of it, if any fraud, technical failures or any other factor beyond Sponsor's reasonable control impairs the integrity or proper functioning of the Tournament, as determined by Sponsor in its sole discretion. Sponsor, in its sole discretion, reserves the right to disqualify any individual it finds to be tampering with the entry process or the operation of the Tournament or to be acting in violation of these Official Rules or those of any other promotion or in an unsportsmanlike or disruptive manner. Any attempt by any person to deliberately undermine the legitimate operation of the Tournament may be a violation of criminal and civil law, and, should such an attempt be made, Sponsor reserves the right to seek damages from any such person to the fullest extent permitted by law. Sponsor's failure to enforce any term of these Official Rules shall not constitute a waiver of that provision.
LIMITATIONS OF LIABILITY. The Released Parties are not responsible for: (a) any incorrect or inaccurate information, whether caused by Entrant, typographical errors or by any of the equipment or programming associated with or utilized in the Tournament; (b) technical failures of any kind, including, but not limited to malfunctions, interruptions, or disconnections in phone lines or network hardware or software; (c) technical failure or human intervention of any kind by a third-party social media platform or application used to submit entries; (d) unauthorized human intervention in any part of the entry process or the Tournament; (e) technical or human error which may occur in the administration of the Tournament or the processing of entries; (f) late, lost, undeliverable, damaged or stolen mail; or (g) any injury or damage to persons or property which may be caused, directly or indirectly, in whole or in part, from Entrant's participation in the Tournament or receipt or use or misuse of any prize. In the case of Entrants who are residents of Australia or the UK, the preceding sentence does not operate in respect of any implied condition or warranty the exclusion of which from these Official Rules would contravene any Australian or UK statute or cause any part of these Official Rules to be void.
Disputes. Except where prohibited, Entrant agrees that: (1) any and all disputes, claims and causes of action arising out of or connected with this Tournament or any prize awarded shall be resolved exclusively by the state or federal courts located in Los Angeles County, California, United States; (2) any and all claims, judgments and awards shall be limited to actual out-of-pocket costs incurred, including costs associated with entering this Tournament, but in no event attorneys' fees; and (3) under no circumstances will Entrant be permitted to obtain awards for, and Entrant hereby waives all rights to claim, indirect, punitive, incidental and consequential damages and any other damages, other than for actual out-of-pocket expenses, and any and all rights to have damages multiplied or otherwise increased. All issues and questions concerning the construction, validity, interpretation and enforceability of these Official Rules, or the rights and obligations of Entrant and Sponsor in connection with the Tournament, shall be governed by, and construed in accordance with, the internal laws of the State of California and United States federal law without giving effect to any choice of law or conflict of law rules.
ENTRANTS' PERSONAL INFORMATION. By participating in this Tournament, Entrants are authorizing the transfer of personal data to the United States for purposes of administering the Tournament, conducting publicity about the Tournament and such additional purposes consistent with our goals or the Tournament goals. By entering the Tournament, Entrants consent to our collection, use and disclosure of their personal information for these purposes. The data controller is Survios, Inc., 3249 S. La Cienega Blvd., Los Angeles, CA 90016, United States. Information collected from Entrants is subject to Sponsor's Privacy Policy.
WINNER LIST. To obtain a list of Tournament winners, email a request to lauren.irvine@survios.test. Winner List requests must be received by August 14, 2018.