Survios & MGM Unveil CREED: Rise to Glory™ at GDC 2018
March 15, 2018
Developer Behind Hit Virtual Reality Titles RAW DATA and SPRINT VECTOR Brings Deeper Immersion to Boxing in VR With New Phantom Melee Technology™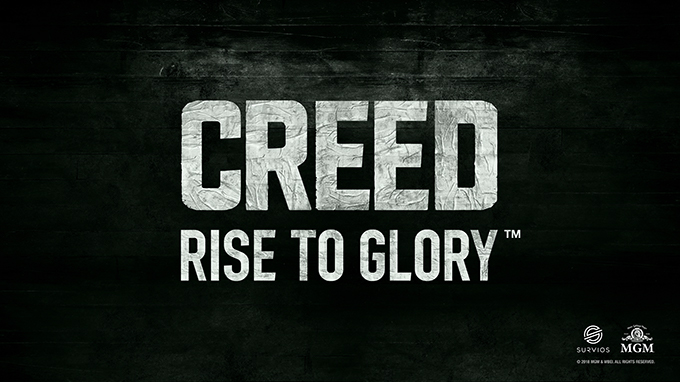 Los Angeles, Calif (March 15, 2018) — Survios, the industry-leading virtual reality studio and MGM Interactive, a subsidiary of Metro Goldwyn Mayer Studios Inc. (MGM), today announced their first collaborative project: CREED: RISE TO GLORY™, a viscerally immersive boxing experience developed exclusively for virtual reality. CREED: RISE TO GLORY™ will be available to demo at the 2018 Game Developers Conference in San Francisco at the Moscone Center South Exhibit Hall in booth 837 alongside Survios' upcoming music creation experience Electronauts.
"We are excited to bring MGM's IP to life in virtual reality with our partners at Survios," said Tricia Samuels, MGM VP Global Licensing, Consumer Products & Interactive. "As our first VR collaboration, CREED: RISE TO GLORY™ instantly delivers in both style and substance. The immersive experience truly allows players to become Adonis Creed with every blow they take and punch they throw."
CREED: RISE TO GLORY™ puts the player in the gloves of underdog Adonis Creed, son of heavyweight champion Apollo Creed. Under the tutelage of the legendary Rocky Balboa, you'll train hard in the gym and battle against the world's best fighters inside boxing's most iconic rings. Intuitive VR melee combat builds on real-life movement mechanics that feel like a true boxing bout, including many styles of punches, dodges, rolls, knockbacks, knockouts, and more, all with authentic hit reactions and responsive player control.
"In all the VR experiences we build, we aim to make our players feel empowered, and CREED: RISE TO GLORY™ accomplishes this in a very cinematic and active way," said James Iliff, Survios co-founder and Chief Creative Officer. "We're throwing players into iconic boxing arenas, trading blows with the top fighters from the franchise, all while experiencing the thrills and showtime dramatics of the ultimate Hollywood-style boxing exhibition. With our new Phantom Melee Technology™, the game provides an authentic immersive experience that truly makes you feel like a boxing world champion."
CREED: RISE TO GLORY™ advances virtual reality through Survios' new Phantom Melee Technology, addressing the ongoing challenge of crafting impactful VR melee combat through a visual player-avatar separation. Phantom Melee Technology relies on a combination of Responsive Control–which triggers strategic desynchronization when the player is staggered or knocked out–and Virtual Stamina, which mimics the slowing effects of fatigue after the player delivers frantic punches or a flurry of blows, to produce authentic hit reactions. The result is a believably intense, wholly immersive boxing sensation.
For more info, visit www.creedrisetoglory.com and www.survios.test.